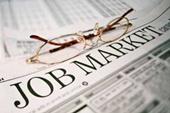 India Inc is increasingly upbeat about its hiring plans across almost all sectors in April-June period this year, led by an improving business outlook, a report by staffing firm TeamLease says.
According to the study, the corporate space would witness a gradual but sure advent of aggressive hiring in the first quarter of FY 2010-11.
The employment outlook index grew to 58 index points for the three-month period between April and June 2010, as much as 11 per cent jump over the previous quarter.
"Industry seems to have turned the corner and intends to hire aggressively. The recovery in sentiment is smart, comprehensive and widespread – the jump in hiring sentiment is shared across geographies and across most sectors," TeamLease Services vice president Rajesh AR said.
"The improvement in sentiment has been studied and gradual over the past 4 quarters -- giving us sufficient reason to believe that it is here to stay.
Although global economy concerns persist, as far as the employment scenario in India is concerned, the cheer has spread and the good times are back!" he said.
The survey, which covered top executives at around 513 companies across the country, focuses on employment growth potential, the business outlook and hiring forecasts with relation to the location and the company profile.
The companies' outlook for their business in the reviewed period has also risen by 15 per cent and currently stands at 56 index points.
Among cities, there is an increase in employment outlook index points of all cities with Bangalore and Ahmedabad leading the rest.
Bangalore saw the maximum increase in the net employment outlook by 23 points and business outlook grew by 7 per cent.
All sectors except, Infrastructure and Telecom, have seen an increase in hiring index points with Healthcare/Pharma and IT topping the charts.
In terms of business outlook most sectors are on an increase, with FMCG & retail sector showing the highest jump.
© Copyright 2021 PTI. All rights reserved. Republication or redistribution of PTI content, including by framing or similar means, is expressly prohibited without the prior written consent.