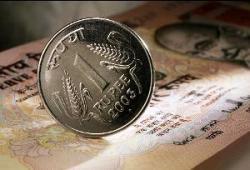 The Reserve Bank of India was on Tuesday optimistic about the economy expanding by 8 per cent this fiscal, despite tightening of the monetary policy.
"The Indian economy is firmly on the recovery path... the baseline projection of real gross domestic product growth for 2010-11 is placed at 8 per cent with an upside bias," the apex bank said in its monetary policy statement for FY'11 on Tuesday.
GDP growth for FY'10 was seen at 7.2-7.5 per cent.
The RBI's optimism about an eight per cent growth in FY' 11 is based on the fact that India's exports have been growing and industrial sector recovery has become more broad-based.
"Exports have been expanding since October 2009, a trend that is expected to continue," it said. Similarly, industrial sector recovery is increasingly becoming broad-based 'and is expected to take a firmer hold going forward on the back of rising domestic and external demand,' the apex bank said.
The corporate sector has also recorded an improved profitability which is reflective of the improved performance of the industrial sector, it said.
"Service sector activities have shown buoyancy, especially during the latter half of 2009-10 and leading indicators of various sectors such as tourist arrivals, commercial vehicles production and traffic at major ports show a significant improvement," the RBI said.
Besides, a sustained increase in bank credit and in the financial resources raised by the commercial sector from non-bank sources suggest that the economic recovery is gaining momentum, the RBI said.
On downside risks, the apex bank said that uncertainty still persisted about the pace and shape of global recovery and that private demand in major advanced economies continued to be weak.
"There is a risk that once the impact of public spending wanes, the recovery process will be stalled," it said, adding "the prospects of sustaining the recovery hinge strongly on the revival of private consumption and investment."
While domestic demand would drive the Indian recovery, significant trade, financial and sentiment linkages "indicate that a sluggish and uncertain global environment can adversely impact the Indian economy," the RBI said.
Secondly, there is a likelihood of commodity and energy prices hardening further which could add to inflationary pressure, it warned.
It also cited monsoon as a 'critical factor' and said that softening of domestic inflation in the months ahead was dependent on a normal monsoon and moderation in food prices.
"An unfavourable monsoon could also impose a fiscal burden and dampen rural consumer and investment demand," it said.
Large capital inflows are also expected in the country and excessive flows could pose a challenge for exchange rate and monetary management, it said.
With the rupee appreciating sharply in real terms over the past one year, both exporters and producers could get affected, it said.
"Exporters, whose prospects are just beginning to turn, and producers, who compete with imports in domestic markets, are getting increasingly concerned about the external sector dynamics," the Reserve Bank of India said.
It also called for vigilance against the build-up of sharp and volatile exchange rate movements and its potentially harmful impact on the economy.