General Motors will launch India's first four-door electric passenger car by the end of this year, a top company executive said on Wednesday.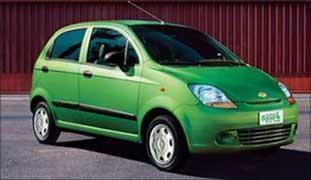 "General Motors India has collaborated with Reva Electric Car Company to manufacture the E-Spark," the auto major's director and vice-president, P Balendran, told PTI.
The vehicle would be the electric version of General Motors' small car 'Spark'. Reva would provide battery technology for the E-Spark.
"This path-breaking initiative is in line with GM India's commitment to introduce environment-friendly mobility solutions in the country," he said.
Balendran was in Vadodara to oversee the rolling out of 10,000th Chevrolet Spark in India at the company's 14-year-old plant at Halol.
GM had signed an agreement with Bangalore-based firm Reva in September 2009 for collaboration in the development of electric vehicles for the India market.
This initiative has the ability to re-define how the automotive companies in India partner for future mobility solutions keeping the carbon footprints and environmental issues in mind, Balendran said.
"The E-Spark will be one of the leading platforms of General Motors in its green initiative drive in India," he said.