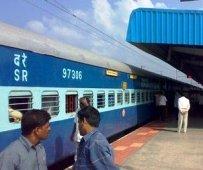 Indian Railways could achieve only 28 per cent of the total 11th Five-Year Plan (2007-12) targets in the first two years.
"Performance of the Railways, in the first two years of the plan period, was much below the proportionate targets as it could achieve only 28 per cent of total plan size," according to the latest report of the Comptroller and Auditor General of India.
It was planned to add 2,000 kms of new lines, convert 10,000 km of metre/narrow gauge into broad gauge, double the 6,000 km of single track and electrify 3,500 km of routes during the 11th Plan.
However, in the first two years of the plan period, 513 km (25.65 per cent) of new lines, 2,612 km (26.12 per cent) of gauge conversion, 789 kms (13.15 per cent) of doubling and 1,299 km (37.11 per cent) of electrification was completed.
According to the CAG report tabled in Parliament on Friday, annual growth rate in passenger earnings declined from a peak of 15.21 per cent achieved in 2007-08 to 10.52 per cent in 2008-09.
The report revealed that out of 144 ongoing railway projects, six projects have been delayed by over 10 years.
The anticipated cost of completion of these projects has been revised to Rs 13,055.47 crore (Rs 130.55 billion) from original cost of 3,463.60 crore (Rs 34.63 billion).
The 11th Plan size of Rs 2,33,289 crore (Rs 2,332.89 billion) envisages financing of Rs 63,635 crore (Rs 636.35 billion) through general budgetary support, Rs 90,000 crore (Rs 900 billion) through internal resources and Rs 79,654 crore (Rs 796.54 billion) through extra budgetary resources.