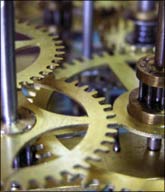 Six core infrastructure industries grew by a healthy 7.2 per cent in March against 3.3 per cent in the year-ago period, reflecting firm industrial recovery.
The key sectors -- crude, petroleum refinery products, coal, electricity, cement and finished steel -- also showed marked improvement in March when compared to the 4.7 per cent in February.
Finished steel with 9.2 per cent expansion led the recovery, reversing a negative 1.8 per cent in March last year.
Coal, electricity and cement grew by 7.8 per cent each against 5.3 per cent, 6.3 per cent and 10.1 per cent, respectively.
Crude oil production went up by 3.5 per cent from a negative 2.3 per cent.
However, petroleum refinery products showed a dismal performance with 0.4 per cent contraction in March 2010 over a positive 3.3 per cent a year ago.
For the financial year 2009-10, the core sectors which have 26.7 per cent combined weightage in the overall industrial production, registered a growth 5.5 per cent in April-March 2009-10 against 3 per cent in the same period last year, an official statement said on Tuesday.
© Copyright 2021 PTI. All rights reserved. Republication or redistribution of PTI content, including by framing or similar means, is expressly prohibited without the prior written consent.