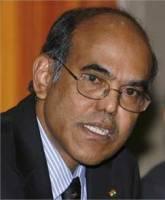 Asserting that the withdrawal of stimulus is in the best interest of the economy in the current scenario of high inflation, the RBI said that it has started unwinding the emergency measures plugged in during the financial crisis.
"The details are not important, but what message you must get is that we have begun in earnest the process of reversing from the expansionary stance," Reserve Bank of India Governor Duvvuri Subbarao said in his address to the Peterson Institute for International Economics, a Washington-based think tank, on Monday.
"We started unwinding in October 2009. We terminated unconventional measures first, we raised SLR and brought it back to the pre-crisis level, we raised the CRR on the banks by 75 basis points by end of January and another 25 basis points last week. We raised policy rates, once mid-March and again last week by a total of 50 basis points," said Subbarao.
On whether reversal of monetary stimulus was anti-growth, the he said: "In the near-term, perhaps it could be anti-growth. There is certainly a sacrifice ratio there, but even in the long-term and the medium-term, sustained inflation is inimical to growth. So we have got to get inflation under control," he said.
Over the past few days, Subbarao attended the annual Spring Meeting of the World Bank and the International Monetary Fund, besides those of the Finance Ministers of G-20 and BRIC countries on the sidelines.
Noting that getting into the expansionary stance was relatively simple, the RBI governor said the dilemma is how to calibrate the withdrawal.
"The tolerance for error was relatively more. But as we exit over the crisis, I have realised that you got to be much more calibrated, because of the implications of what you do and if you get it wrong the implications can be quite big," he said.
Referring to the RBI outlook released last week, the growth for the year 2010-11 is projected to be eight per cent plus. "WPI inflation, we believe would be about 5.5 per cent by end of March," he said.
Subbarao said the Indian banking system had no exposure to tainted assets or stressed institutions and the country's growth emanates from domestic demand and domestic investment as the exports are less than 15 per cent.
He said India was hit by the global economy crisis because it is now more closely integrated with the rest of the world and the financial integration is as deep as trade integration.
The RBI governor said growth in India is consolidating; industrial growth is getting broad based and investment intentions are strong.
© Copyright 2021 PTI. All rights reserved. Republication or redistribution of PTI content, including by framing or similar means, is expressly prohibited without the prior written consent.