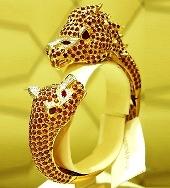 Stable prices, seasonal festivals and a stronger rupee are likely to keep India's gold demand strong this year, say analysts.
Gold prices have been moving between $1,090 and $1,167 an ounce in the wake of renewed fear in the global economy over the European Union's economic leniency towards Greece.
On the other hand, recovery in the US economy promoted confidence in other asset classes, including real estate, bonds and US treasuries. The effect of these would be to keep gold prices subdued.
The latest World Gold Council report suggested the average gold price rose slightly to $1,109.12 an ounce in the first quarter of the current year from $1,099.63 an ounce in the previous quarter.
During the quarter, gold traded mostly between $1,058 and $1,153 an ounce.
In rupee terms, it has been trading between Rs 16,200 and 16,900 per 10 gm since the beginning of the year.
Early this month, global consultancy GFMS forecast that prices would touch $3,000 an ounce by the end of the decade.
"Generally, consumers do not buy amid high volatility. Since gold prices suddenly rose to nearly Rs 17,000 per 10g, consumers pushed a pause button. But, demand will resume if prices remain at this level," said Ketan Shroff of Pushpak Bullions, a city-based trader.
Meanwhile, WGC has started preparing for the coming festival season.
"So far, in 2010, we have promoted Baisakhi, Poila Baishak, Gudi Padwa, Lohri, Ugadi, Tamil New Year and Vishu. We also plan to promote the upcoming Akshaya Tritiya festival in a big manner, as well as the festivals during September-November, such as Rakhi, Onam, Rambha Thritiya, Ganesh Chaturthi, GuruPushya Amrut, Karva Chauth, Navratri-Durga Puja, Dussehra and Diwali-Dhanteras," said Ajay Mitra, managing director (Middle East and India), WGC.
The council promoted eight events to promote gold sales last year. It has identified 40 events this year.
The focus in 2010 was to promote all major regional festivals and new years, in addition to the major national festivals, he added.
WGC recently said India retained its number one position in gold consumption in 2009, recording a total demand of 405.8 tonnes.
This was, however, 19 per cent less than 501.9 tonnes in 2008. Total gold imports were estimated at 343 tonnes in 2009, 18 per cent less than in 2008.
However, record high prices encouraged consumers to encash a part of their holdings. This led to scrap gold sales reaching a record 200 tonnes.
Jewellers believe imports in the first quarter of 2010-11 have surpassed 100 tonnes, as against 32 tonnes in the corresponding quarter of the previous year.
When quizzed about investment versus jewellery demand, Mitra said: "It would not be appropriate to compare investment demand vis-à-vis jewellery demand, especially in the Indian scenario.
While demand for bars, medallions and other forms of gold investment has been growing over the past few years, the demand for gold jewellery has also been growing, mainly because Indians consume gold for cultural reasons like weddings and festivals."
The India Bullion Markets Association estimates that households have nearly 22,000 tonnes gold locked away in family vaults. This makes India one of the largest stockists of physical gold in the world.
Anticipating robust jewellery demand, Bangalore-based Rajesh Exports plans to set up 300 retail stores (it presently has 25) in the next three years, with an investment of between Rs 3,000 (Rs 30 billion) and 4,000 crore (Rs 40 billion).