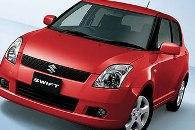 With demand spiralling beyond the company's expectations and new capacities taking time to come on stream, Maruti Suzuki, the country's largest car maker, says it is being forced to reduce focus on the lucrative export market and divert production to the local market.
The Delhi-based company, which commanded a market share of nearly 52 per cent in the domestic passenger car category during 2009-10, does not plan to increase exports any further, thereby quashing its earlier targets.
It is, instead, gearing up to face a production crunch over the next 18-24 months at its two mega car manufacturing factories of Gurgaon and Manesar, both in Haryana, close to Delhi.
According to the managing director, Shinzo Nakanishi, the two units, which can produce a million units per annum between them, will be stretched to the limits by the end of this year.
The company is trying to find ways to expand production further by about 70,000-80,000 units per annum at Gurgaon, its older plant, to meet demand. Said Nakanishi: "Frankly, this year, 2010-11, and next year, 2011-12, will be very tough for us. We have already reached maximum capacity (at both our plants) but I have asked my production people to stretch further. They have assured me that up to a certain extent, we can do it. But, we will have a real problem in 2012."
The company has already predicted a fall of 20-30 per cent in exports to European nations this year, due to the withdrawal of the scrappage incentive scheme for older cars by many governments. Exports to European countries account for 80 per cent of the company's total exports.
"We are always focused on the domestic market; I am not interested in export. We are satisfied with the export total of 1,45,000-1,50,000 units and that will not change. If we had a bigger capacity, then we would have been delighted to export more," Nakanishi added.
The company exported 1,47,000 units last financial year and doesn't expect any change in the export number even two years later, due to the production constraint. Its earlier set target of exporting 2,00,000 units (1,00,000 to the European Union and 1,00,000 to other countries), supposed to be met last financial year, was undone.
"For us, the most critical year is 2011-12. If the market grows by 10-12 per cent this year, then we have to grow as well. The growth projection is the same for next year, too," said Nakanishi.
Production is being jacked up by 70,000-80,000 units per annum at the Gurgaon plant at an investment of Rs 130 crore. Maruti is investing Rs 1,700 crore, to be raised through internal resources, to add 2,50,000 units per annum capacity at Manesar, that would be ready by 2012.
The Gurgaon plant has a capacity of 7,00,000 units annually, while the Manesar plant has a capacity of 3,00,000 units per annum.
The company is also under an agreement with Japan's Nissan Motor Company for the supply of 30,000-35,000 units per annum of the A-star (rebadged as Pixo by Nissan) over the next two years.