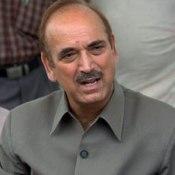 India and the United States have agreed to work together for establishing the Regional Global Diseases Research Centre in India and initiate several programs under the India-USA Health Initiative.
Speaking at the convention of the American Association of Physicians of Indian origin (AAPI), Union Minister of Health Ghulam Nabi Azad said he had discussed projects based on public-private partnership with his US counterpart Secretary of Health and Human Services Kathleen Sebelius and exhorted AAPI to help India in this endeavour with its wide range of expertise.
Azad said, "I have just had discussions on further strengthening the partnership between the United States and India under the India-USA Health Initiative," and pointed out that both countries already have 10 bilateral agreements in areas ranging from vaccine research to infectious diseases.
"As many as 226 NIH grants are currently operative in India," he said, and added, "The development of the roto virus vaccine and the malaria vaccine are also products of cooperative agreements between the two countries."
In his meeting with Sebelius, both sides had agreed among other things "to work together for establishing the Regional Global Diseases Research Centre in India, which would help us interact in capacity building in laboratories and disease centres."
He acknowledged that it was only countries where private sector expertise had collaborated with the public sector that had envisaged affordable costs in health care delivery "and were able to set up systems that enabled them to maximize public good by nurturing mutual aspirations and emerge as world leaders in this process."
And to a great extent, "the success of Indian professionals, especially medical professionals in the United States proves my point," he said.
Azad said that it was unfortunate that "about India, the general impression is that there is no successful public/private partnership in the health sector. This notwithstanding the fact that more than 50 per cent of healthcare services in India in urban areas are run by private sector."
He pointed out that medical education, including nursing and paramedical education is "predominantly in the private sector," but that "despite this huge presence and good work done by the private sector, it has also come in for criticism because of the high cost of treatment and its reluctance to reach rural areas."
Azad said that "many of us may not be aware that most of our successful disease control programs have delivered results because of the public-private partnerships," and pointed out that "the treatment success rate of about 80 percent in our TB (tuberculosis) program has been achievable on account of PPPs.
Similar partnerships in polio have yielded dividends and in HIV/AIDS, as against the projected 5 million patients in the country, the current numbers are 2.3 million and these numbers have already started showing a declining trend."
He said that buoyed by these successes, the Indian government was now seeking to expand these partnerships to alleviate health needs of underserved areas.
"For example, in medical education, we have allowed private companies to set up medical colleges for the first time in our country."
Azad noted, "We have also unilaterally recognised medical qualifications of a few English-speaking countries included the United States of America to enable medical faculty from such countries to teach and practice in India."
"Foreign teaching institutions like Johns Hopkins University and Boston University are already setting up offshore centres in India," he said.
"On its part, the government would be investing more than $250 million to establish six state-of-the-art tertiary care institutions modeled on the lines of All India Medical Institutes of Sciences in underdeveloped and underserved regions of the country like Uttar Pradesh, Bihar, Orissa, Madhya Pradesh, Rajasthan and Chattisgarh."
Azad said that nine regional centers of excellence had also been approved for para-medical education to produce highly-skilled lab technicians and radiology therapists."
The Health Minister also disclosed that another innovative initiative taken by the government of India had provided "advance market commitments of $2 million each to private pharmaceutical companies to address indigenously H1N1 vaccines."
"And, you'll be surprised to know that till last month, we didn't have any vaccine for influenza," he said. "In the United States of America, for that matter in the entire Europe, you are so used to seasonal influenza vaccines, but we didn't have any such influenza vaccine in our country. We did have, but these were imported ones."
Azad said however that after the H1N1 epidemic, "We took this as a challenge and blessing in disguise and we thought that the time has come and that we should produce our own influenza vaccines and we started with H1N1 with the support of the government, and I am extremely happy that today we have our own indigenous H1N1 vaccine in our country."
He said one vaccine has already been released in the market and another two are expected shortly.
Azad acknowledged that if AAPI members were wondering why he had painstakingly shared all these details of the government of India's efforts to alleviate health care delivery with them, it was "because I believe that partnership in health are like a two-way street."
"Improvements in health care services in India would offer exciting opportunities of research and commerce even to countries like the United States of America," he said.
Thus, he reiterated that "it is for this reason, that I want AAPI as a collective entity to pro-actively engage with India in the public health sector."
"Rest assured," he asserted, "we are not seeking financial resources. We are seeking long-term relationship that will continue to work long after this convention is over."
Azad said while "we accept your suggestions and cooperation in different areas of health application issues," what was even more important would be if AAPI "will work with us in actual implementation in India."
"That's the kind of partnerships I would wish to engage with AAPI, and I hope you'll share this vision with me," he said.