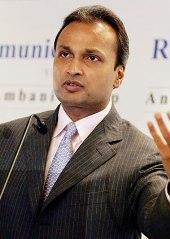 The Securities and Exchange Board of India on Monday said it had issued a showcause notice to Anil Ambani, chairman of the Reliance ADA Group, in the matter of dealings by his companies, Reliance Natural Resources  and Reliance Infrastructure.
The SCN, issued by Sebi's whole-time member M S Sahoo and served on June 7, was silent on why it was issued. The market regulator usually gives details of the case or charges for which an SCN is issued.
A release on the Sebi website said an SCN was also issued to Satish Seth, executive vice-chairman of R-Infra, S C Gupta and J P Chalasani, both directors of R- Infra, and Lalit Jalan, whole-time director of R-Infra. Both companies, too, have been issued SCNs.
The release stated although Reliance Natural Resources Limited and R-Infra had sought inspection of documents (it is not clear which documents Sebi was referring to) and postponement of hearing, there was no response from others. While the two companies were given opportunities to inspect the documents and reply to SCN, they did not do it.
"Seeking inspection of documents and postponement of hearing at the hearing delays the disposal of the proceedings," Sebi said. Sebi held a hearing today.
The companies can inspect the documents, depending on which Sebi had framed charges, before August 17 and submit their replays before August 27, after which a personal hearing will be held on September 3 at 10 am at Sebi Bhavan at Bandra-Kurla Complex.
Citing principles of natural justice, Sebi said, "Others are directed, if they wish, to take inspection of the relevant documents on August 17 at 10 am, submit replies to the SCNs by August 27 and appear for personal hearing at 10 AM on September 3."
An ADAG spokesperson said the matter was sub judice. "Reliance Infrastructure, Reliance Natural Resources, and the individual directors concerned will comply with due process of Sebi, and are confident of suitable resolution of the matter, as legally advised."
Image: Anil Ambani