Responding to public criticism of Britain giving aid to an increasingly prosperous India, the Department for International Development has said it was looking "carefully" at its current aid programmes to the country.
India is the UK's single largest aid recipient with an annual budget of pound 250 million.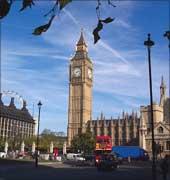 Amidst mounting national debt, there are growing demands on the David Cameron government to cut aid to India, which is widely reported in the UK news media as an "economic superpower".
Responding to public comments to 'The Coalition: Our Programme for Government on International Development', the DFID said many respondents had questioned why Britain gave money to seemingly rich countries.
"They are right to do so. We are ending our aid to Russia, and the Secretary of State has decided to stop our development aid to China as soon as is practical," the DFID said in its response.
"We will look carefully at our aid to India, bearing in mind that 20 per cent more people live on less than $1.25 a day in India than in the whole of sub-Saharan Africa.
"Meanwhile, we are reviewing all our other country programmes, as well as our aid spent through multilateral institutions, such as the World Bank and the United Nations, to ensure taxpayers' money has the maximum impact on poverty," it added.
A decision to reduce or continue the same level of British aid to India will be taken by the end of the year when a report of the ongoing review of aid programmes in 90 countries will be finalised.
A spokesman of the DFID told PTI that Britain is currently reviewing "every single one of our country programmes", including India.
"The UK is reviewing every single one of our country programmes to ensure we are giving aid to where it's most needed - to help the world's poorest people. We have also announced a new independent aid watchdog - to scrutinise aid on the taxpayers' behalf. In future we will also publish all details of the department's spending on our website," he said.
The review, part of the coalition government's efforts to find avenues to reduce spending and cut Britain's burgeoning budget deficit, is scrutinising 90 countries which currently share 2.9 billion pounds in British bilateral aid.
The Cameron government has made clear that the international development budget will increase - to 0.7 per cent of gross national income from 2013 - but it will be better targeted to where it can do most good.
The redirected money will be channeled to priority countries and used for poverty reduction measures including programmes to improve maternal health, women's right to family planning and protection against deadly diseases like malaria.
The bilateral aid review will analyse DFID's programme in each country to look at results, delivery and value for money.
The review, which will report after the comprehensive spending review in the autumn, is expected to herald a new focus for DFID's bilateral programme.