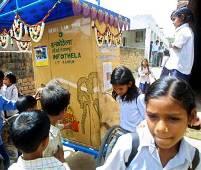 Arguing that digital TV will enable people to watch high-quality channels of their choice, the Telecom Regulatory Authority of India on Thursday recommended phasing out analogue television in the four Metros by March 31 next year and in the rest of the country by December 31, 2013.
In its recommendations on implementation of Digital Addressable Cable TV Systems in India, the Telecom Regulatory Authority of India said the sunset date for analogue TV services in the country should be December 31, 2013.
The implementation should be carried out in four phases. In phase I, it should be implemented in four Metros of Delhi, Mumbai, Kolkata and Chennai by March 31, 2011.
In Phase II, it should be implemented in all cities having a population over one million by December 31, 2011, while in Phase III, it would be implemented in all other urban areas (municipal corporations/municipalities) across the county by December 31, 2012.
Phase IV would include all areas which are left over where it should be implemented by December 31, 2013.
The Trai said the digital addressable systems will enable consumers to watch high-quality digital television channels of their choice on 'a-la-carte' (individual) basis.
Also, digital systems have the capacity to deliver many more channels to the consumers than analogue cable.
In fact, the capacity crunch and the non-addressable nature of analogue cable TV systems is coming in the way of orderly growth of the cable TV sector in India, it said.
The Ministry of Information and Broadcasting had sought Trai recommendations on digital addressable systems on June 2.