The cost of building four-lane highways has become another bone of contention between the Planning Commission and the National Highways Authority of India (NHAI).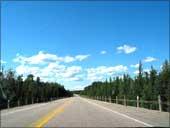 The Plan panel is against an NHAI proposal to increase the cost allocation of building each four-lane highway by 33 per cent from Rs 9 crore (Rs 90 million) a kilometre (km) to Rs 12 crore (Rs 120 million).
The Planning Commission is of the view that even after factoring in the inflation, the cost estimate is exaggerated. "At 6 to 7 per cent inflation, the cost would only increase to Rs 9.6 crore (Rs 96 million) and not Rs 12 crore, as demanded by NHAI," said a highly-placed government official, on condition of anonymity.
He added that the Commission saw the cost of building four-lane highways growing to Rs 10.5 crore (Rs 105 million) only after a period of four years and considered that Rs 12 crore was very high. NHAI had recently sent fresh estimates to the Commission, saying Rs 12 crore would be spent on building each km of four-lane highways.
NHAI says the revised cost is based on change in prices of construction material and the wholesale price index (WPI). Assuming the cost of construction material goes up 7-9 per cent a year and WPI increases by 5 per cent per annum, NHAI says the cost of building every km of a four-lane highway could go up to Rs 11.35 crore (Rs 113.5 million) in 2010-11.
Analysts, too, feel building a four-lane highway at Rs 12 crore per km will be quite high. "The cost of building four-lane highways should rise to a maximum of Rs 9.7 crore (Rs 97 million) a km. Increasing it to Rs 12 crore will be too high," said Parvesh Minocha, managing director (transport business) at Feedback Ventures, an infrastructure consultancy firm.
Though no official cost estimate for neighbouring countries is available, Minocha said building a four-lane road in Malaysia costs Rs 24 crore (Rs 240 million) per km. The higher cost in Malaysia is on account of better specifications and more expensive labour and machinery costs.
During the tenure of the National Democratic Alliance government, which started the National Highways Development Project, the cost of building a four-lane road was around Rs 4 crore (Rs 40 million) per km.
A committee headed by Planning Commission member B K Chaturvedi, in its report to the government last year, had projected the cost of four- and six-lane highways at Rs 9.5 crore (Rs 95 million) and Rs 10 crore (Rs 100 million) per km, respectively.