The growing trend of taking loans for higher studies has its pitfalls. Bankers say many students take these loans lightly and default on initial payments.
"Students tend to underestimate the ramifications of a loan default at the start of their career. It may have an impact when they approach banks for a loan later," says Prashant A Bhonsle, country head, Credila Financial Services.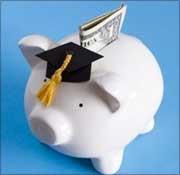 The bank gives you a moratorium period to settle down in your new job or if you don't have a job immediately after the course. But if you don't start repaying your equated monthly instalments (EMI) within the next three months, banks declare the loan as a non-performing asset.
"If a student explains the reason, a delay may be accepted. Even the penalty may be waived off, but strictly on merit," says Nandan Srivastava, general manager (retail banking), Bank of Baroda.
A habitual defaulter may find his/her chances of getting a loan in the future derailed. Even after the dues are cleared, he/she may have to chase the bank and Credit Information Bureau (India) Limited to get the 'defaulter' status changed. In addition, there will be a penalty, which can be as high as 25 per cent of the loan amount.
While sheer negligence can hurt, things may go out of your hand at times. Here are some solutions:
Start paying the interest during the course period
Anuja Pande will be soon leaving for the US for her PhD in biology. Once there, she will be working as a research assistant on a part-time basis. She is planning to take an education loan of Rs 15 lakh (RS 1.5 million), with her father as the co-borrower.
But she does not wish to burden her father with the repayment. Hence, she intends to use her earnings from the part-time job to pay the interest.
Assume that the loan will be for a period of seven years at an annual interest rate of 11 per cent.
Her EMI will be Rs 25,684. Her earnings from the part-time job may not be sufficient to repay the entire EMI. However, she has the option of repaying the interest component, which will be Rs 13,750. Even her parents can help pay the interest during the course period.
Start paying the interest after the course
Even if you cannot service the entire loan amount, paying interest regularly gives the bank an assurance that the intentions are sincere. This will increase the chances of a better deal - in terms of extension and lower default charges.
Create a savings corpus
Someone who plans to pursue a course after a few years can start preparing now. For instance, Ajinkya Mehendale chose to work after his graduation instead of pursuing post-graduation immediately. Reason: He wished to finance his education partly.
He is working with an information technology company and has been steadily saving for almost two years now.
Financial planners feel Mehendale's plan of action has merit. "If you build a sufficiently large corpus, you may have to take a loan for a smaller amount. And even if you don't go for the loan, you develop the habit of saving on a regular basis," said the planner.
There is another advantage of creating this safety net. If in a particular month, you don't have sufficient funds to pay the EMI, you can always dip into your savings pool.