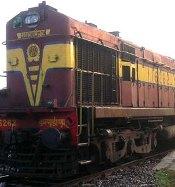 In a bid to break into lucrative automobile transportation sector, the Railways have invited private players to use its wagons to deliver cars, mini-trucks and tractors to showrooms countrywide.
It has formulated the 'Automobile Freight Train Operator' policy which will facilitate bulk movement of automobile traffic by rail from production hubs to consumption centres.
"The policy would seek to increase the low rail share of automobile traffic from present level 3 to 4 per cent to about 30 per cent in the next five years," said a senior Railway Ministry official, adding, the policy has come into effect from July 19.
Automobile sector is one of the fastest growing sectors with the production expected to double by 2016.
Therefore the scheme will provide an unique opportunity to the logistic providers and road transporters to tie-up with end-users and avail the train service, the official said.
Supporting the venture, Railways had announced a policy on development of automobile and ancillary hubs at strategic locations across the country for storage and secondary distribution by roads.
Shalimar near Howrah was the first of 10 such hubs inaugurated by Railway Minister Mamata Banerjee last year. While the policy offers scope for private investment in wagons, Railways on its part have also developed customised wagons suitable to transport automobiles.
The official said logistics-related companies and wagons leasing companies with a minimum of one year experience and with a net worth of Rs 20 to Rs 30 crore can apply as operators in the venture.
The policy will be reviewed after one year. The policy formulation comes in the wake of the Railway minister's announcement in last Budget seeking a new business model and inviting private investment for starting new services and development of infrastructure.