Auto loan rates are set to rise following the decision of HDFC Bank and Kotak Mahindra Prime to raise interest rates.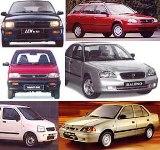 HDFC Bank is likely to raise car loan rates by 50 basis points (bps) in the next few days, according to a senior executive.
"The rates need to climb because cost of deposits has already been increased across the industry," said Ashok Khanna, HDFC Bank's senior executive vice president and business head for vehicle loans.
"Demand is very robust and waiting periods for cars is on the rise. A 50 bps hike in rates is not going to affect demand," Khanna added.
HDFC Bank is currently the largest player in the car loan space, with disbursals of more than Rs 1,400 crore (Rs 14 billion) a month. The average interest rates for customers is 10.5-11 per cent.
From next week, Kotak Mahindra Prime will also raise interest rates on car loan by 50 basis points. At present, the non-banking finance company offers car loans in the range of 9.5 to 10.25 per cent. The lender disburses Rs 425-450 crore (Rs 4.25 - Rs 4.5 billion) of loans every month.
The country's third largest private sector lender Axis Bank will take a call on its car loan rates on Monday, according to a senior executive.
"There are a number of reasons why the market for auto loans is doing well. The auto industry is doing well and penetration of car finance among customers is also picking up. Another factor is that the ticket size of loans is also increasing," said Sumit Bali, chief executive officer of Kotak Mahindra Capital.
The auto loans segment is seeing rapid growth with passenger car sales in the country climbing 38 per cent to 158,764 vehicles from a year earlier, according to the Society of Indian Automobile Manufacturers.
The country's largest lender State Bank of India disbursed Rs 1,303 crore (Rs 13.03 billion) for auto loans in the quarter ended June 30, and is sanctioning 22,000 loans a month.