Andhra Pradesh High court on Monday reserved orders on the bail petition filed by B Ramalinga Raju, the prime accused in multi-crore Satyam Computers accounting scam.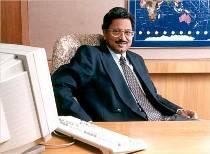 Harin P Raval, Additional Solicitor General, who argued the case on behalf of the CBI, filed an application before the court requesting it to form a special team of doctors to look in to the health condition of Raju who is avoiding the court proceedings citing health grounds since September last.
He said the CBI is doubtful about the veracity of the reports submitted by the Nizam Institute of Medical Sciences on Raju's health.
Arguing against the bail petition, Raval said the petition is not maintainable, as the Supreme Court while dismissing the bail plea filed by the petitioner earlier in March observed that the application can be renewed after some time.
He said the Apex Court did not specify that the petitioner should approach the High Court at a later date for bail.
He said in the case of Talluri Srinivas, an auditor with PriceWater House and one of the accused in the same case, the Supreme Court gave direction to the petitioner that he can approach the High Court for bail.
In Raju's case the Supreme Court did not direct the petitioner to approach High Court and hence he has to file his bail application in Supreme Court.
Raval opposed the bail petition saying CBI is still awaiting replies for Letter Rogatory sent to six countries.
He also opined that the 250 odd witnesses the CBI mentioned in its charge sheet are former employees of the Satyam Computers and the accused may try to influence them.
On July 20, Andhra Pradesh High Court granted bail to five accused including Raju's bother B Rama Raju and former CFO of Satyam Computers Vadlamani Srinivas in multi-crore Satyam Computers scam.
Except Ramalinga Raju, remaining nine accused in the case got bails from various courts on different occasions.