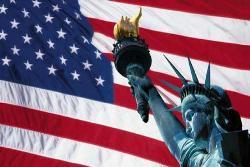 The United States has conceded that the steep hike in H-1B and L1 visa fee will have adverse impact on Indian companies as well as those from the US, but exuded confidence that its long-term economic partnership with India would continue to deepen and strengthen.
"We understand the government of India's concerns. We realise it could impact Indian companies that invest in the United States and we also understand the potential impact on Indians who work in the United States as well as some American businesses," State Department deputy spokesman Mark Toner said.
But, he said, the US was confident that its long-term economic partnership with India would continue to deepen and provide benefits for both societies.
Asked that New Delhi was planning to take the US to the World Trade Organisation on the issue of steep increase in visa fee of certain H-1B and L1 categories, he said, "It is within India's purview to do that (take the issue to WTO).
"I think we remain cognisant of the effect that this legislation may have on India, and we're going to try to work with them to mitigate it. But beyond that, I don't have a reaction. I mean, we have got a robust economic partnership with India," Toner said.
The steep increase in visa fee of certain categories of H-1B and L1 visas was part of the $600 million border security bill signed by the US President Barack Obama, last week, to strengthen security along the US-Mexico border.
Businesses in India and the US have opposed it, while India has expressed concerns about it.
"This is a grave mistake during a time of economic weakness for the nation. Congress should deregulate visas, not burden their users with more regulations and fees," said Alex Nowrasteh, a policy analyst at Washington-based Competitive Enterprise Institute, said in The Boston Globe.
He said that protectionist aspects of the legislation were worrying.
"Many foreign technology companies including Indian giants Wipro, Infosys Technologies, and Tata outsource thousands of technology workers to the US. They will bear the brunt of these new fees, which will discourage investment in the US and could lead to further protectionist measures worldwide," he said.
"Highly skilled foreign workers were also a boon to public finances. Non-immigrant Indian H1B workers contribute over $1 billion a year in Social Security payments that they don't receive back in benefits," Nowrasteh said.
"Instead of raising fees and expanding regulatory costs, lawmakers should do away with workplace inspections, fees, quotas, and other restrictions.
"The economic case for the free movement of labour is as compelling as that for goods and services. In a faltering economy, it is more important than ever," he argued.