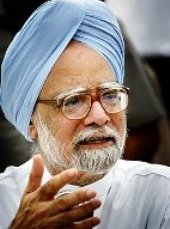 Prime Minister Manmohan Singh on Monday assured the Orissa government of faster clearances to various projects facing delays in the state, Chief Minister Naveen Patnaik said.
Patnaik, facing heat from the Centre over mining projects in his state, met Singh and raised concerns over the delay in environment clearances to projects like the Posco steel project and Vedanta bauxite mining initiative.
"I discussed about Posco and told him (prime minister) that work ought not be stopped," he said.
"The prime minister said that he would certainly see that this matter is taken up and give a push to the project. He said it should be expedited," Patnaik said when asked about the delay in the Korean steel giant Posco's multi-crore project in Orissa.
Asked about the delays in Vedanta's bauxite mining project, the chief minister said that his government has given its response to the Ministry of Environment and Forests. "Environment Minister Jairam Ramesh is meeting me and the issue would be discussed then," he said.
Patnaik said the prime minister assured him on the Polavaram dam project in Andhra Pradesh, saying that none of the tribal villages in Orissa would be submerged.
Patnaik's meeting with the prime minister comes in the wake of Environment Ministry appointed N C Saxena Committee's adverse remarks on Posco and Vedanta projects.
The Saxena panel had found serious violations in the provisions of environmental clearance and the Environment Protection Act by Vedanta.
One such violation related to the unauthorised expansion of its capacity from one million tonne a year to six million tons.
The expansion had no environment clearance and Vedanta is said to have ignored repeated notices sent by the Orissa Pollution Control Board to stop work, the Committee said.
The committee, which investigated alleged violations of environmental laws by Vedanta, also accused the company of illegally occupying forest land for its $1.7-billion project.
Image: Manmohan Singh