French car maker Renault on Thursday said it is developing a car which will be designed to meet the requirements of the Indian market and is expected to be introduced after 2013.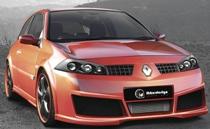 "At present, we are at the conceptualisation stage for a car which would meet the requirements of the Indian market," Renault India Chief Executive Officer Sudhir Rao told PTI on the sidelines of the Society of Indian Automobile Manufacturers (SIAM) summit here.
He, however, declined to give details on the segment the car will fit in saying, "It is too premature to say anything right now, but we are are very flexible on that." The car is being developed with an intention to be exported to other markets like India. "We have a global approach.
While the conceptualisation and development will be done in India, we and the car will also be be exported to markets similar to India," Rao said.
He said the car is over and above the five models the company had announced to launch by 2013.
Renault plans to introduce five cars in the country between 2011-2013, including a small car.
The company might share the platform of its partner Nissan to launch the small car in 2012.
"We have decided to introduce five cars in the two-year period between mid 2011 to mid 2013. It will start with our sedan--Fluence, by next year," Renault India Country General Manager Marc Nassif told reporters at the After the Fluence the company will introduce its SUV Koleos in the same year.
When asked about its proposed small car, he said, "We will introduce the hatchback in the most competitive B segment and it will be rolled out in 2012...We may share a Nissan platform for launching the small car."
 The company is investing Rs 4,500 crore (Rs 45 billion) with its partner Nissan to set up a plant in Chennai having a capacity of up to 4 lakh units per annum.
Renault had introduced its sedan Logan in joint venture with Mahindra & Mahindra, but the JV was snapped the in April this year.
The French carmaker, however, allowed M&M to continue producing and selling Logan under a contract manufacturing agreement.