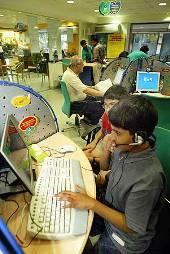 Neetu Bhatia gave up a lucrative career in investment banking to start an online entertainment ticketing company -- KyaZoonga -- three years back.
Her aggression has come in handy as the website has already made its presence felt in a nascent industry.
The other big daddy of the Rs 300-crore (Rs 3-billion) online ticketing industry Bookmyshow.com -- was also born three years back.
It is a part of Bigtree Entertainment, a ticketing, information and analysis solutions provider.
Ashish Hemrajani, chief executive officer of Bigtree Entertainment, attributes the success of Bookmyshow to democratization of the business of film ticketing.
The economics of the business is simple. KyaZoonga and Bookmyshow get a 'convenience charge' of Rs 15-25 per ticket.
But the companies had to innovate even to get this business because of the Maharashtra government's order that 70 per cent of movie tickets must be sold through the box office.
This would have been a body blow as Maharashtra is still the biggest market for movie tickets.
The solution: these companies provide consumers with a transaction ID which can be shown at the box office counter to get physical tickets.
The growing success of online ticketing business is evident from the fact that Bookmyshow earned Rs 9 crore and Rs 6 crore by selling the tickets of Rajkumar Hirani's 3 Idiots and James Cameron's Avatar respectively.
But not all movies give them that much business and the 'convenience charge' isn't enough to keep the business going.
So the online ticketing companies have started providing options to book food and beverage combos to augment their revenue.
Moving beyond just movie tickets was an obvious step. Kyazoonga, for example, is the official ticketing partner for the Cricket World Cup 2011 and expects Rs 150 crore (Rs 1.5 billion) overall ticketing revenues from the event that will be held between February 19 and April 2 in India, Sri Lanka and Bangladesh.
"We estimate that around 2 million tickets will be sold for CWC 2011," she says.
The first phase, which is the online ticket sales, began on June 1 with more than 100,000 tickets on offer.
Hemrajani says after the multiplex strike last year, the business realigned itself to focus on other events such as concerts and live events.
"Today, almost 25-30 per cent of our revenue is generated by non-movie ticket sales, compared to less than 1 per cent a year ago, he adds.
Almost 30 per cent of tickets for plays at the popular Prithvi Theatre in Mumbai are sold through Bookmyshow.
"Online booking has boosted the occupancy at Prithvi Theatre by 20-25 per cent and footfalls in theatres have increased 70-75 per cent," Hemrajani claims.
Also, realising the Indian consumers' aversion for using credit cards online, pure-play ticketing sites have started ramping up their physical presence in alliance with petrol pumps and cafes which allow cash transactions.
"Smaller cities are reluctant to use credit and debit cards, leave alone net banking to book tickets online," says Bhatia.
Bookmyshow started a cash-on-delivery service for tickets. "We are looking to add facility to use cash cards for online ticket booking," says Hemrajani.
But competition is getting tougher with smaller regional players like www.ticketgenie.in> and www.ticketpro.biz upping their ante on ticket sales from sporting events, theatre and even local live events.
Indian Railway Catering and Tourism Corporation, along with Ticketpro and Broad Vision Systems, are ticketing partners for the CommonWealth Games 2010.
This includes sales via the internet, call centers and a network of independent retail outlets as well ticket counters on various sporting event venues.
The Best Business Specials