The booming professional social networking website market is likely to surpass the business of job board websites, according to a top industry expert.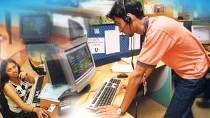 "If you look at the trend, job board websites are losing their market to professional social networking websites. More and more people have started looking at these websites as the ultimate platform," Yogesh Bansal, Founder and CEO of ApnaCircle.com said.
ApnaCircle.com, a three-year-old professional social networking website, has positioned itself as a 'Business and Career' networking site.
The CEO claims to have 30 million users worldwide of which 1.6 million are in India. He was speaking on the sidelines of 'Advertising Public Relation Event Entertainment' (APREE) at Arpora, 20 kms away from here.
The three-day event, which has drawn professionals from across the country began on August 26.
The organisers said they used a lot of social networking websites to get speakers for the event, which is being held for the third time in Goa.
"We banked a lot on social networking for this edition. For instance, we tracked one of the speaker Harish Bijoor on Twitter and we left him messages to which he replied," Salma Yamini, Operation Head-APREE said.
Harish Bijoor is a brand domain specialist operating out of Bangalore and runs a unique boutique consulting outfit branded Harish Bijoor Consults Inc, a brand name that has a consulting presence across the markets of Hong Kong, Seattle, London, Dubai and Indian sub continent, she said.
Yamini said that APREE this year will discuss 'tools in surging economy' and professional social networking websites is one such tool, which is widely used by the industry to reach out to people.
Bollywood actor Sanjay Suri, who was present at the event, was of the opinion that offline and online networking should overlap as it helps in better communication.
 "I have raised funds and sourced talents using social networking sites for the film. There are 400 producers from across 30 cities who were contacted through social networking websites. The film is now complete," he said.