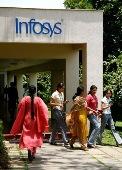 Against the backdrop of a clampdown on visas by the US and growing antagonism towards foreign workers and immigrants in that country, Infosys Technologies, India's second-largest IT services firm, is mulling an 'extreme offshoring' model to help reduce its dependence on H1 and L1 visas.
In the year ended March 31, 2010, Infosys's onsite revenues were around Rs 10,461.32 crore (Rs 104.61 billion), or 46.7 per cent, and offshore revenues were Rs 12,121.5 crore (Rs 121.21 billion), about 53.3%.
The Bangalore-headquartered company says it is capable of increasing its offshore utilisation capabilities to 95 per cent.
It said the intent was to prepare the company to face an extreme situation should negative sentiment brewing in the US intensify further.
"There is a cost element (due to the visa fee hike) to what is happening now and there is a philosophical or directional element.
"The cost is no doubt increasing, but it is manageable. But it is more about what it indicates. If there a build-up of negativity in sentiment, we have to prepare ourselves (for extreme offshoring) if need be.
"However, as long as unemployment remains high, the negative sentiment will continue, unfortunately," Kris Gopalakrishnan, CEO and MD, Infosys Technologies, told Business Standard.
Infosys has already conducted pilot programmes with a couple of  clients in the US with which it has proven the model.
By sitting at remote offshore locations, the company successfully transitioned outsourced projects to India.
The Infosys extreme offshoring model is expected to have a far-reaching impact on the delivery of IT services, as this could lead to increased hiring at offshore locations like India and fewer jobs being created onsite.
Front-end sales and support jobs would have to be primarily manned by US citizens.
The US border security legislation will double the visa application fee, and is seen as targeted the Indian IT services industry.
Unless there are further laws passed in the US that completely halt outsourcing, US companies have no reason to stop shipping work to India.
"As long as globalisation is not reversed or stopped, I think the growth of remote delivery of services should continue. And it's an opportunity for countries like India and China," said Gopalakrishnan.
The Indian IT industry championed the offshore model in the early 1990s, which received a boost when global clients leveraged offshore work to gain a cost advantage and gained access to India's vast talent pool.
However, today's standard delivery model is a mix of offshore, onsite and nearshore.
Despite offshoring being at the forefront of the delivery roadmap, the IT industry used to send people to the US on H1 and L1 visas on a temporary basis to transition clients' work to India.
This process requires gathering first-hand information about a client's business requirements and readying the framework before shifting work offshore.
"The technological capabilities for extreme offshoring is already there with us. You have video conferencing, which allows you to be there virtually, rather than in person, and the quality of video conferencing is extremely high today, with the availability of technologies like telepresence," added Gopalakrishnan.
Over the last couple of quarters, Infosys has increased its offshore ratio a few percentage points.
"Our offshore-onsite ratio has shifted towards offshore in the last two to three years, and we can look at further shifting it down to offshore. In fact, we have many clients who are pushing us to reduce onsite work further," said S D Shibulal, COO, Infosys Technologies.
Infosys has also reduced its dependance on H1 and L1 visas.
According to the company, the number of visa renewals has fallen 80 per cent in the last three years.
Infosys today employs around 13,000 people in the US, of which the approximate number of H-1B visa holders is 8,900 and L-1 visas around 1,800.
This does not include figures for its BPO subsidiary and other wholly-owned subsidiaries.