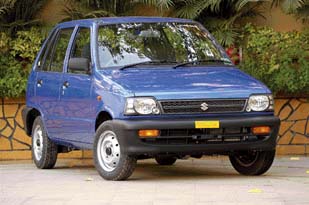 Maruti Suzuki India reported on Monday its highest monthly sales of 95,649 units for January, a jump of 33.3 per cent over the same month last year.
The carmaker had sold 71,779 units in January 2009. "This is the highest ever domestic as well as total sales for the company," Maruti Suzuki India said.
Domestic sales witnessed a jump of 21 per cent at 81,087 units compared to 67,005 units in the same month year-ago, the company said.
Sales of the A2 segment, comprising Alto, Wagon R, Zen, Swift, A-Star and Ritz, were at 58,540 units against 46,899 units in January last year, up 24.8 per cent.
The A3 segment (Swift Dzire and SX4 sedans) sales grew by 36.5 per cent to 8,995 units in January 2010.
MSI's oldest model M800 sales declined by 55.2 per cent to 2,494 units in January. Exports during January 2010 witnessed a massive jump of 205 per cent to 14,562 units against 4,774 units in the year ago month, the company said.
Image: MSI's oldest model M800