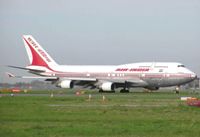 Aviation sector all over the world has suffered setbacks in 2008-2009 due to global recession, fuel prices and load factor but it will be revived by 2011, Union civil aviation minister Praful Patel said on Monday.
"There was a drop of 30 per cent in passenger load factor leading to losses in many top airlines in the world including British Airways. But last quarter of 2009 has again raised some hopes of revival in the country," Patel told reporters in Nagpur on Monday.
The bad patch is almost over and we are looking forward to make up now, he said.
Asked about the parliamentary committee's remarks stating that the decision to merge national carriers Air India and Indian Airlines was taken in haste, Patel said, "It's a baseless story. My ministry has already issued a clarification on the same day."
On the proposed maintenance repair overhaul, facilities of aircraft manufacturing major Boeing in city, Patel said the company was in the process of setting up $100 million project soon.
To a question, he said Air India will soon resume the Nagpur-Dubai international flight which was discontinued last month. Necessary instructions have been issued, he added.
Air India is in the process of launching cargo hub very soon in Nagpur while Deccan Aviation has already started one from city, Patel said.