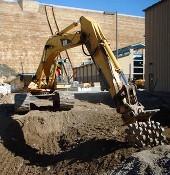 Diversified Hinduja Group said on Monday it is close to acquiring an Indian construction firm in a bid to secure a foothold in India's fast growing infrastructure sector, especially roads, and also announced an investment of $10 billion (around Rs 46,200 crore) in the power sector.
"We have shortlisted a local company which we are buying . . . When you have a local infrastructure company which has synergy then you can start much faster.
"It is an acceptable company which can be a good foothold for us to give a growth. It is well managed," group's global president G P Hinduja told PTI in an interview in Davos.
"We will retain them as minority partners. The Hinduja policy is to have a minimum 51 per cent. This company is engaged in everything (construction ), in parking, roads, concessions, in bridges. But our focus will be on roads," he said, adding the announcement will be made by March 15.
Hinduja, who was in Davos to participate in the World Economic Forum's annual meeting, said soon after the taking over Indian firm, the group will announce its foreign partner, which has already been selected.
About FDI induction programme he said, "We definitely have a programme with full focus on infrastructure, including power involving 10,000 MW.
Finances for the 1,000 MW plant at Vizag are likely to be tied up by the end of this month."
Asked how much investment is expected by the group in power sector, he said, "Going by $1 billion for the 1,000 MW we are ready to bring $10 billion for the 10,000 MW once the things start get moving."
The group has already announced plan to invest $50 billion in power, realty, auto, healthcare and oil and gas projects in India, whose appetite for infrastructure funds is pegged at about $500 billion over the next four-five years.
"In road construction, we have synergy with the transport sector (Ashok Leyland)," Hinduja said.
The group planned constructing parking lots after acquiring the Indian firm while the foreign partner will be there for technology transfer, he added.
"For road concessions (development of toll plazas), you need a very sophisticated technology. Contractors are cheaper in India. The concession technology we will bring it from outside," he said.
"In our 10 verticals, for both organic and inorganic growth, there are full plans which are under implementation," he added.
Roads and transport minister Kamal Nath had recently announced that India required $ 50 billion to construct 20,000 km of highway and had sought $3 billion loan from the World Bank.