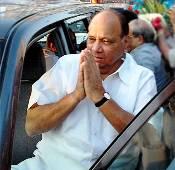 Senior Nationalist Congress Party leader Praful Patel on Monday came out in strong defence of Union agriculture minister Sharad Pawar facing criticism for price rise and said all decisions on the issue were taken collectively.
Terming the price rise as unfortunate, Patel told reporters that the whole issue was politicised by some section of politicians and Pawar was being cornered. He categorically denied that Pawar was criticised by the Prime Minister.
"None of the top Congress leaders or ministers have blamed Pawar for the price rise," he said, adding, all decisions are taken on controlling prices by the Cabinet Committee and it is a collective decision.
Patel said this year there was a huge drop in production of pulses all over the world and only 50 million tonnes was available and India has imported 35 MT.
Price rise is not a new thing, he said.
On Vidarbha issue, the Union civil aviation minister said his party's stand was quite clear and party was in strong favour of creation of Vidarbha.
To a question, he said it will happen only when Congress takes a decision on creation of smaller states.
"NCP and our president Sharad Pawar have time and again expressed their views on statehood to Vidarbha," he added.
Patel said NCP state leaders and ministers from Vidarbha region might join the all-party delegation which was likely to meet central leaders in Delhi shortly.
"Being a central minister I cannot be a part of the delegation, but will extend all support to Vidarbha issue," he said.
Earlier, Patel told party workers here to work hard and broaden the base in another two years ahead of Nagpur municipal corporation polls.
He advised food and civil supplies minister Anil Deshmukh to be a true gaurdian of the party in the area as he was the only Minister from Nagpur.
"Don't associate with any group," Patel told Deshmukh. Patel informed that NCP's National Women's Convention has been alloted to Nagpur and will be held in last week of March.
He said a decision on appointing party's Nagpur city unit president might be taken within four-five days.
Image: Sharad Pawar