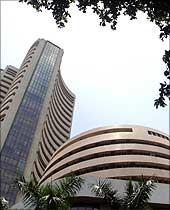 The indices closed flat for the third consecutive session. In line with its Asian peers, the Sensex was down nearly 200 points in opening trades.
But a recovery in the Japanese markets engineered a turnaround on Dalal Street. The Sensex finally ended at 16,356, lower by one point, and the Nifty closed at 4,899 up 18 points.
Consumer durables, IT and auto sectors traded firm, while FMCG and banking were sluggish.
Unlike the benchmark indices, the broader markets continued their recent robustness. Out of 2,909 stocks traded on the BSE, there were 2,149 advancing stocks as against 715 declines. The mid-cap and small-cap sectors gained around 2% each.
Titan, Kalapataru, Lupin and Bhushan Steel in the mid-cap space, and Reliance Media World and TRF in the small-cap universe rallied more than 10%. 
Meanwhile, exports grew for the second straight month in December by 9.3 per cent to $14.60 billion (around Rs 68,000 crore).
Overseas shipments were $13.36 billion in December 2008.Exports had turned positive in November after falling for 13 straight months due to impact of the financial crisis.
In the large-cap space, Wipro gained 4.1% at Rs 674, TCS added 3.4% to Rs 761 and Tata Motors strengthened by 3.4% at Rs 716. Grasim, M&M and Reliance Communications were the other significant gainers. Reliance Communication and Sun Pharma were the other prominent gainers.
On the loser's side, Hindustan Unilever weakened by 2.8% at Rs 237, SBI dropped 1.7% to Rs 2,021 and HDFC Bank declined 1.5% at Rs 1605.
Tata Steel topped the value charts on the BSE with a total turnover of Rs 110.07 crore. This was followed by Unitech (Rs 107.90 crore), SBI (Rs 105.83 crore), Tata Motors (Rs 93.19 crore) and L&T (Rs 91.20 crore).
Unitech led the volume charts with trades of 14.08 million. It was followed by Suzlon Energy (11.12 million), Rashtriya Chemicals (7.18 million), IFCI (7.10 million) and Ispat (5.48 million).