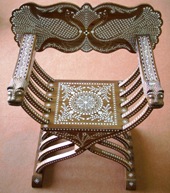 Four legs, a slat of metal or wood, bare or upholstered, a seat to sit on, and another to rest your back against -- the chair might seem the very epitome of design simplicity.
But, we discover, it's anything but. In the last century the chair has been the subject of numerous design interventions; the Museum of Modern Art in New York has over 400 'designer' chairs -- some simple, some interesting, some impossible and many that just make you stop and think.
In a conventional sense, ergonomics is, of course, key, and a good design should also spell comfort. But 'chairs should be stylish too,' says Geetanjali Kasliwal, a Jaipur-based furniture designer.
Maharaja Folding Chair 
Ashiesh Shah's Maharaja Folding chair is a multi-utilitarian design -- it's a chair, stool and table. "It began as an interesting experiment and took us over a year to execute," says Shah, an architect and partner in design studio A A Home.
Sheets of metal were folded and welded in a manner that enables the chair to be 'folded' in multiple ways. Designed with an eye on "UDL" or uniform distribution load, the seat tilts slightly back so that the lower back fits snugly into it.
And no, it's not heavy or uncomfortable because, as Shah tells us, 'the metal has been perforated'. Shah is in the process of introducing a whole range of furniture based on a similar concept.
Price: Rs 60,000-70,000 (approximately).
Available at AA HOME, 77 Kailash Nagar Housing Society (ground floor), Forjett Hill, Tardeo, Mumbai-7.
Miss Plump
The design of this sculptural chaise was inspired by 'a voluptuous feminine form', explains Paul Rodrigues, furniture designer and partner at Red, Blue & Yellow, a contemporary furniture store in Mumbai.
The 'frame-first' technique was used to build the solid wood and metal structure. A soaked ply-layering technique was used to complete its three-dimensional curved surface, which was then finished with paper veneer.
Miss Plump's ergonomically designed curvaceous form makes it comfortable seating for two people.
Price: Rs 74,400
Available at G-11, Laxmi Woollen Estate, Shakti Mill Lane, Off E Moses Road, Mahalaxmi, Mumbai-400011
Corset Chair
Anantaya, Ayush and Geetanjali Kasliwal's design firm in Jaipur, works on the principle of sustaining Indian craftsmen by incorporating their handiwork in everyday products.
Recycling is also something they believe in. Both these aspects are combined in the corset chair. The chair, a simple frame in dark sheesham, uses airline safety belts woven together all along the back and seat making it seem like a corset tightly stretched on wood.
It's comfortable and is also an innovative take on fashion's latest trend, the bandage dress.
Price: Rs 14,500
Anantaya, E- 143 Ramesh Marg, C- Scheme, Jaipur-300021.
Climate Change Chair
Gupta designed the climate chair last year to show the 'shrinking of  natural resources with time'. The basic design is simple - an upholstered stool on a stainless steel frame -- but what makes it different is the back, rather the back of the back, framed with cutouts of steel gharas (traditional Indian water pots), with taps fixed on them.
"The back of the chair is the reality of the shrinking world, with our resources getting depleted, changing our verdant world into death and leading us to the ultimate doom."
A conversation starter, if nothing else.
Price: Rs 1,25,000
Available at E-4, Defence Colony, New Delhi
Frisco Chair
Varya, a recently-opened lifestyle store in Delhi, has furniture that's both funky and comfortable. Take this piece, for instance, where the humble rocking chair gets a contemporary twist.
The circular stainless steel arms set it apart, with the white leather upholstery, especially imported from Brazil, complementing it.
Price: Rs 1,14,000.
Available at 21 A, Janpath, New Delhi
Classic chairs
These designs are among those still acknowledged as iconic.

Shell Chair
Designed by American architects and furniture designers Charles and Ray Eames in the 40s, this was the first industrially manufactured plastic chair. A simple, clean design, the pared down version with the steel tubular legs has been endlessly replicated. But the one with the trussed Eiffel tower legs is distinctive.
Chair by Lloyd Wright
American architect Frank Lloyd Wright once said, "Every chair must be designed for the building it will be in."
Wright designed this chair in 1903 for the Larkin office in Buffalo.
Barcelona Chair
This is the iconic chair designed by architect Ludwig Mies van der Rohe for the German Pavilion at the Ibero-American Exposition of 1929.
You can see variations of it in modern office reception areas. Mies also created the popular Brno chair, an early design in cantilevered steel tubes -- with a base made of a single, seamless steel tube folded in to form a 'C'.
Wassily Chair
Marcel Breur, who taught cabinet making at the Bauhaus, designed this chair in 1925-26. The Wassily too was fashioned out of seamless steel tubes and canvas, and continues to be in production even today.