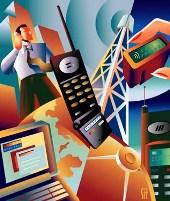 As if peeved by the vigilance authorities' direction for a fresh or snap tender to procure equipment for BSNL, the telecom ministry has complained to Prime Minister Manmohan Singh that corporate rivalries were affecting government's decision-making.
Pointing out that a fresh or snap tender for an estimated Rs 36,000 crore (Rs 360-billion) global system for mobile equipment contract could still be challenged by corporate rivals, telecom minister A Raja brought to Singh's notice various developments that have delayed the telecom public sector unit's expansion for nearly two years.
Bharat Sanchar Nigam Limited had invited bids to add 93 million GSM lines about two years ago and one of the leading vendor Nokia-Siemens Network was disqualified on technical issues and since then the PSU has not been able to place the orders because of various reasons including legal battles.
Swedish vendor Ericsson was the lowest bidder for the Northern and Eastern region, while China's Huawei was selected for the South zone.
NSN had challenged disqualification in two high courts who had upheld BSNL's decision. ". . .In this regard, you will appreciate the trend where corporate rivalries are buffering decisions making in many way in the government," Raja said in its letter the prime minister.
The minister said that BSNL needs these lines badly in view of its rapidly declining market share and inadequate capacity to add mobile subscribers may lead to further deterioration.
It has been more than 20 months that BSNL is trying to put in place the procurement order, Raja said in his letter, ading that 'it appears that the CVC observations mainly pertain to rejection of NSN, which has been examined in detail and upheld by two high courts earlier.
Earlier, a department of telecommunication joint secretary J S Deepak, who is on BSNL's board as government nominee, had questioned the single bid brought out by BSNL and the lack of comparative analysis on the basis of total cost to the company.
To this, BSNL had maintained that at the time of inviting bids many vendors were in the fray and their bids have been scrutinised, but in the end only one vendor emerged as the lowest bidder in the respective zones.
The process cannot be categorised as single bid, BSNL officials said.
Cancellation or any delay in the contract could hit BSNL hard at a time when government is thinking of disinvestment, a senior official said on the condition of anonymity, adding in such an eventuality only corporate rivals could be benefited.
BSNL's capacity to add more mobile subscribers is diminishing in most of the centres at a time when the private players are adding 15-17 million new users every month.
Further delay in execution of project would affect BSNL both in terms of market share as well as revenues.