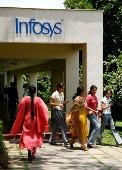 The Mysore establishment of Infosys will be next to get Central Industrial Security Force security cover after its office as well as the electronics city complex in Bangalore were provided the same.
The government has sanctioned 48 posts of the paramilitary force in various ranks which will deploy its quick reaction team at the Infosys campus at Hebbal Electronics City, Hootagalli in Mysore.
Home minister P Chidambaram announced the decision at a press conference in New Delhi.
"CISF continues to add new clients in the private sector. Additional posts were sanctioned for providing security to two establishments or installations. . . Infosys Technologies Limited Mysore (48 posts)," he said.
According to senior CISF officials, the Infosys had requested the government for a security cover at their Mysore facility, similar to the one they got in July last year for their Bangalore campus.
The deployment of the force will take place soon, a senior officer said. While the Bangalore facility of the software company has 101 CISF personnel, the Electronics City in Bangalore has 68 men for providing security cover.
The Mysore deployment will be the third assignment for the CISF after the force was mandated to protect the private sector with an amendment in the CISF Act in January this year, in the aftermath of the 26/11 Mumbai terror attacks.
The Korba thermal power station in Chhattisgarh has also been sanctioned five CISF posts, Chidambaram said.
The home minister also elaborated on the new budgetary allocation for police modernisation.
"Under the modernisation of police forces scheme, a sum of Rs 89.14 crore (Rs 891.4 million) was released to various states in January 2010, taking the total released so far to Rs 955.53 crore or Rs 9.55 billion (against a Budget provision of Rs 1,250 crore or Rs 12.5 billion)," he said.
The BSF has also been sanctioned Rs 28 crore (Rs 280 million) for computerisation of its systems called 'intranet prahari' to be implemented by NIIT.