Siemens AG, a global powerhouse in electronics, electrical engineering and health care, is making India a major hub for research and development of medical diagnostic tools, using Computer Aided Design.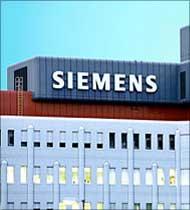 The US-based Siemens Medical Solutions, which established a CAD Group in 1995, had over 60 per cent of its engineers and scientists working in Chennai and Bangalore, said Arun Krishnan, head and co-founder of CAD Group, Siemens Medical Solutions.
The CAD Group employs over 100 engineers and scientists, who work together with various information technology and other diagnostics research projects of Siemens Healthcare.
It has 150 research and development locations in over 30 countries around the world, employing over 32,300 people. The Germany-based company spent over euro 3.8 billion in a year on R&D, he said.
The CAD Group will hire more scientists and engineers in the near future on a project to project basis, said the scientist, who was honoured as 'Inventor of the Year 2009' by Siemens.
A scientist with more than 59 inventions and 21 patents to his credit, Arun Krishnan said his CAD Group has so far developed seven CAD-aided imaging tools, used in digital chest X-Ray machines, CT scanners, mammography and virtual colonography to accurately detect breast cancer, colon cancer, lung cancer and clots in the lungs.
Further, the Group is working on four more next-generation imaging tools, with CAD as the mainstay.
"In future, diagnostics imaging software will provide doctors with accurate data on the disease and its condition, analyzing the disease history of the patient, than just offering an image to the doctor. We are also working on such projects," he said.