With the financial turmoil hitting them hard, American households have cut down on their spending and are saving more, according to the International Monetary Fund.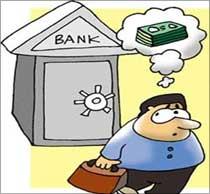 The multilateral lending agency has said that the rate of US household consumption, measured as a per cent of disposable income, is anticipated to fall further.
Such a scenario would raise the saving rate to about six per cent of disposable personal income, from nearly five per cent percent in 2009.
In a report, the IMF noted that US households are saving more and spending less of their total income, "in reaction to the global crisis".
Rattled by one of the worst financial meltdowns in decades, the US economy saw massive job losses and falling demand last year. The turmoil had its root in the subprime crisis that happened in 2008.
According to the IMF, the decline in American consumption has coincided with a sharp fall in household wealth and several economic shocks.
"Economic and financial uncertainty surged in late 2008, as an extreme fear took over the financial market in such intensity and scope that have rarely been experienced since the Great Depression," the report noted.
To bolster the national economy, the Federal government had come up with various measures including a massive $787-billion stimulus package.