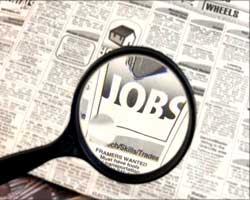 Remember Hari Sadu, the arrogant boss who is shown his place by a junior who has just landed another job? Well, he's back. This time, you don't see him but there are profanities scribbled on his door.
Every letter of his name has been expanded: Hernia, allergy, ring worm, insane, swine, acidity, dandruff, underwear and so on.
The background voice intones: Who is this rakshas (demon)? The chorus replies: Hari Sadu.
The 26-second ad ends with the tagline: 'Bye bye recession, Happy New Year'. The message is unmistakable: The market has revived and there are jobs for seekers on Naukri.com, the jobs portal.
The offtake and execution of the campaign were swift. In early January, Naukri.com undertook a study called the Hiring Outlook Survey on 850 companies from various sectors that showed some very positive sentiments.
Indeed, 72 per cent of recruiters said new jobs would be created this year. What is more, 65 per cent claimed that there would be increments this year; a majority said these would range from 5 per cent to 20 per cent.
The portal thought it would be a good idea to launch an ad campaign around the findings.
Positive message
In fact, a few months prior to the survey, executives at Naukri.com had begun to notice that the company's monthly job index was slowly but steadily going up after it had tanked in mid-2008.
The index had revived in February 2009 but it's only over the last five months that the climb has spread across sectors.
"That's where the idea for the ad came up. We wanted to send out a positive message in the new year," says InfoEdge (owner of Naukri.com) National Head (marketing and communications) Sumeet Singh.
"As leaders in the job portal space, it's important for us to send out the right message."
That's precisely the brief that was given to the company's creative agency, Draft FCB Ulka.
"I called up the creative director, Sanjay Sharma, and asked him what we could do around this," Singh says.
Consequently, Sharma narrated this idea to the marketing head. "I instantly liked it. It was easy to execute and within a week we had our ad," Singh adds.
This is the second installment of Hari Sadu. The first was in 2006 where an irate
Hari Sadu is on the phone.
He wants a poolside reservation at a hotel but the person at the other end is unable to get his name correct.
Overhearing this, one of the employees agrees to help him spell it out: "H for Hitler, A for Arrogant, R for Rascal, I for Idiot", much to the shock of the disgruntled boss.
(When critics said the ad made fun of people named Hari, the portal replied that there was no Hari Sadu. It had done its homework thoroughly.)
Prior to that, Naukri.com had come out with two other ads in 2004 and 2005.
Again, these ads centred on painful bosses. The first depicted two employees in a washroom.
While one of them tails the boss around, the other one, who has just been shouted at, throws water at him.
Similarly, the second ad showed an employer getting cake smashed on his face. Both ads end with the tagline: "Guess who's just heard from us."
Market-backed insight
The insight of using difficult bosses in its commercials came from the finding that 90 per cent of people leave their jobs because of their bosses.
"Which is why Hari Sadu has become synonymous with unreasonable bosses," Singh says.
The latest ad was first released on YouTube, and went on air on January 22.
While it is not a 360-degree campaign, Naukri.com will make use of its site extensively.
Further, it also plans to roll out radio spots.
On YouTube, the ad managed 60,000 views in its first week.
"We mailed our clients and registered users the preview campaign on YouTube first. Since our target group is online users, it was a natural extension for us," Singh points out.
The portal, owned by Sanjeev Bikhchandani, began almost by fluke.
After quitting GlaxoSmithKline, Bikhchandani started doing the odd market surveys and feasibility reports in 1989 from the servants' quarters of his house.
He would assess how much companies offered MBAs and engineers at the entry level. Following that, he would sell the report to a few hundred companies for about Rs 5,000 each.
For a few years, he took up a job as a consulting editor for The Pioneer and ran its careers section.
In the 1990s, the department of telecommunication wanted content providers to give out information on jobs and vacancies for its video text service.
Using other newspapers, Bikhchandani and his team created a big jobs database that was later used for the online idea.
Though the project never took off, in 1997, he launched Naukri.com. But it was not until 2000 that the project received funds from ICICI Ventures, which helped it achieve scale.
Today, the portal is the number one job site with revenues of over Rs 100 crore (Rs 1 billion) and 19 million registered users.
The group has gone on to expand into matrimonial and real estate websites, and employs almost 900 people in 40 offices across the country.