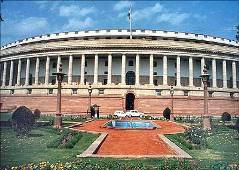 Multinational financial services provider Barclays Capital said on Tuesday it expects the government to pull back some of the stimulus measures in the Budget.
"In the upcoming Budget, we expect the government to pull back some of the fiscal support measures that were provided to domestic industry and export-oriented manufacturers," Barclays Capital said in a report.
It further said the government may go in for divestment in Bharat Sanchar Nigam Limited, PowerGrid, Steel Authority of India Limited and MMTC next fiscal that would fetch Rs 25,000 crore (Rs 250 billion) and together with higher tax mop-up will help the Centre reduce fiscal deficit to 3.8 per cent of gross domestic product.
"In the next fiscal, we could see the government selling stakes in BSNL, SAIL, PowerGrid and MMTC, potentially raising Rs 25,000 crore at the current market valuations. We see considerable upside risks to our projection of Rs 25,000 crore of divestment proceeds in 2010-11 fiscal," said Barclays in its report.
Barclays further said there is increased momentum in announcements of equity offerings in public sector units, 'which suggests upside risks to our estimate of fiscal divestment proceeds of Rs 25,000 crore (Rs 250 billion) in the next fiscal'.
"Given the upward bias to GDP growth (nine per cent) and additional divestment proceeds (Rs 2,5000 crore), the fiscal deficit could be reduced to as low as 3.8 per cent of GDP. The postponement of the 3G auction could be a source of further improvement," the Barclays report said.
Fiscal deficit is projected to reach 6.8 per cent in the current fiscal compared to 6.2 per cent in the last fiscal.
Next fiscal, the government has indicated to have fiscal deficit of 5.5 per cent.
The report further said recent industry-level data suggest that capital spending is likely to accelerate in the next fiscal, as ongoing and recently announced projects for next year amount to more than $1 trillion (over Rs 46 lakh crore).
The government has cut excise duty by 6 per cent, service tax by 2 per cent and stepped up plan expenditure to provide stimulus to slowing down economy.
After tightening its noose over money supply, the Reserve Bank also asked the government to partially roll back stimulus to have fiscal consolidation.
But, the industry is dead against a sudden withdrawal of stimulus saying, it should continue till growth is on a firm footing.
In its second term, the United Progressive Alliance government has so far made divestment in NHPC and Oil India.
On Wednesday, NTPC issue would open. Besides, REC, NMDC and SJVNL issues would come up this fiscal.