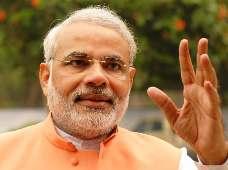 Gujarat chief minister Narendra Modi is all set to showcase Mahatma Gandhi as a son of the soil to attract tourists to his state with special package tours covering all the places related to the father of the nation.
Modi plans to market the peace icon to the world in his bid to make Gujarat 'the world's leading tourist destination'.
"We have Gandhi, what else do we need to attract tourists," said Modi after paying homage to the Mahatma at his birthplace on his 62nd death anniversary.
The Vibrant Gujarat tourism initiative, the brainchild of Modi, will bring together all the places related to the Mahatma's life and special events to celebrate his philosophy and legacy.
"Gandhi's entire philosophy took root in Gujarat. First of all he was born here and some of the most important events of his life took place here. Ideally, the Indian government should have taken a step to introduce Gandhi to the world, but it is we in Gujarat who are doing it," tourism minister Jay Narayan Vyas told PTI.
The state plans to attract international and domestic tourists by providing them a slice of Gandhi's life.
"Gandhi was born in Porbandar, studied in Rajkot, led the freedom struggle from his ashram on the banks of Sabarmati and the Dandi march was a turning point in India's history. We will provide a tour that covers all these places," said Vyas.
The minister said that Gandhi, unlike the popular perception, was not the 'private property' of the Congress party.
"When Gandhi was a part of Congress, it was the only political party in the country. Even BJP founder Deen Dayal Upadhyaya was a part of the party earlier. Gandhi is not the Congress' personal property," said Vyas.
Modi and the BJP president had visited the Gandhi memorial Kirti Mandir in Porbandar and observed two minutes of silence before inaugurating a special sand sculpture exhibition.
The chief minister said that the event will be made into an annual event with next year's theme being 'Gandhi and the Environment'.
"The annual turnover of the international tourist industry is 7 trillion dollars, more than four times India's national budget. And I want to bring in that money here to Gujarat," said Modi.
Image: Narendra Modi