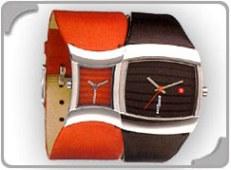 With growing middle-class income, luxury watches have found an eruption in demand in the post-economic slowdown era. Leading producers like Titan Industries, Timex, Timond, HMT and Gitanjali are currently facing a demand which surpasses supply.
In the past two years, high-end luxury watch brands have grown by 20-22 per cent, as against 7-8 per cent growth in low-end watches.
Still, the surge in demand seems to have not been expected.
"Indian companies start manufacturing such watches at least six months in advance to meet seasonal demands. Anticipating lower domestic production, local retailers start their bookings in global markets at least six to eight months ahead of occasions like Christmas, New Year, etc.
"But, the current unseasonal demand was not anticipated six months ago, due to uncertainty over the global economy, resulting in demand outstripping supply," said Vinod Agarwal, president of the Watch Trade Federation.
Hemal Kharod, editor of Trade Post, a trade publication dedicated to the sector, believes that manufacturing of high-end luxury watches require visionary skills for designers, which takes far more time than for mid- and low-end watches.
Tastes seem to have changed over the past nine-odd months, with low-end consumers upgrading watches to price points between Rs 8,000 and Rs 10,000.
Titan Industries have, therefore, introduced many new brands in the high-end segment to leverage market sentiment.
"In future, if the trend continues, which is very likely, we will introduce many innovative and stylish brands to meet consumers' demand," said Titan its chief executive officer, Harish Bhat.
Titan had also introduced the Swiss-made brand, Xylys, in the upper segment and all these brands have been received well by consumers. "Whatever we produced, we sold," Bhat added.
The Rs 10,000-crore (Rs 100-billion) watch industry share has been classified in two parts. The low range sector, with a price between Rs 500-3,999 dominates, with over 60 per cent of market share.
The Rs 4,000-17,000 range constitutes 30-35 per cent; the rest is with super high-end products. Volume-wise, about 45 million watches, including clocks, are sold in India annually, with an annual growth rate of seven to eight per cent.
"Call it an impact of a growing economy -- India's luxury watch demand today is much higher than that of the global level," said G S Kannan, managing director of the Timex Group.
Watchmakers now feel the need for introducing new and stylish watches to meet customers' desire.
So, the company is planning to launch a new segment of watches at the 15th International Watch & Clock Fair in Mumbai between February 4 and 7.
"Good movement has been seen in the high-end watch market. Since we entered into this business about a year and a half ago, it is for the first time that high-end watches have seen such stupendous demand," said Mehul Choksi, chairman of Gitanjali Gems.
The company recently launched the 'Morellato' and 'Chronotech' brands in the luxury segment, well accepted by consumers.
"There is a growing need of concessions for consumers. If introduced, the demand will increase significantly. Gitanjali is shortly introducing price concessions to lure more customers," said Choksi.