In May last year, when President Barack Obama urged Americans to "Say no to Bangalore (read no to offsourcing to India) and yes to Buffalo", little did he realise that a Mumbai-based business process outsourcing company was creating jobs even in Buffalo.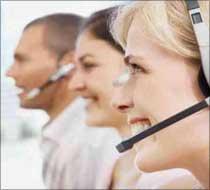 Firstsource was perhaps the first BPO that set shop in the US city of Buffalo in 2004 with 287 employees. The number has risen to 600. And Firstsource has close to 4,000 employees in the whole of the US.
Firstsource is a case in point. Other pure-play BPOs like Essar Group's Aegis also have a strong onshore (in foreign countries) presence. The company has eight centres with close to 5,000 employees in the US. The total headcount of the company is 40,000. Most of these centres are part of the inorganic growth route that the company has chosen to have.
Aditya Birla Mincas, the BPO arm of the Aditya Birla Nuvo group, also plans to ramp up its global hiring numbers. The company, with a headcount of 13,000, has considerable presence in both Canada (due to the acquisition of Mincas) and the US. Over the next six months, the company plans to hire 3,500 globally.
For Firstsource, having an onshore presence was a part of the company's strategy right from the start.
"Our strategy is driven by the belief that there will always be several processes that clients would prefer to be delivered from onshore due to cultural or compliance reasons. Besides, we always want to play in the outsourcing market than the offshoring space," Firstsource managing director and chief executive officer Ananda Mukerji says.
According to Mukerji, the company had followed this strategy in the European markets or the UK as well. "When we started our operations in the UK, we had one centre. Today, the headcount in the UK is 1,600, with presence in three centres. The success of this onshore strategy is evident in some of the customer wins that we are getting. Rather, during the slowdown, this has helped us get business and kept us in deals that otherwise would not have been possible to win," said Mukerji.
On his part, ABM chief executive officer Deepak Patel believes the reason to have onshore presence "is because a lot of work that is being done here just cannot be offshored.
Besides, the value that we are able to give in some of the processes in onshore is just not achievable offshore. Having said that, work that can be done cost-effectively in a region (irrespective of the geography) will end up in those regions".
BPO players, meanwhile, agree that while margins in the short-term are impacted, the strategy pays off when seen from a long-term sustainability. "Margins will be lower than what you might get if you offshore, but it works if you take a longer horizon. Besides, it is not necessary that margins are very low when compared with offshore," said Mukerji. Industry experts say onshore margins will be in the range of 10-15 per cent, whereas offshore will be in the range of 25-30 per cent.
The market for offshore services, according to research company Everest, is $220-280 billion (Rs 10-13 lakh crore), whereas that for onshore services is $480–520 billion (Rs 22-24 lakh crore).
"In many cases, the onshore presence has come to the company through an acquisition and, hence, some of these contracts will have a lock-in clause. Whenever they get an opportunity, these firms will move it offshore or near-shore. In many cases, firms would maintain the contract and continue to work to get additional business," explains Vinu Kartha, partner at the offshore advisory firm, Tholons.
Analysts also point out that a lot depends on the strategy of the company. For instance, WNS has always focused on work that can be offshored. It was very recently that WNS announced the setting up of a centre in Latin America. Genpact has a presence onshore too. They have work from the Florida government, which is done on both offshore and onshore basis.