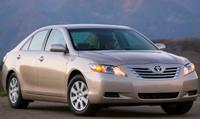 Riding on the back of higher vehicle sales, Japanese auto giant Toyota Motor Corporation has returned to black, posting a profit of 153.2 billion yen (about $1.68 billion) for three months ended December 2009.
The auto maker, which is recalling more than a million vehicles in different parts of the world, had a loss of 164.7 billion yen in the same period a year ago. In the third quarter of fiscal year 2010, consolidated vehicle sales jumped 227,000 units, Toyota said on Thursday.
Revenues in the December quarter shot up 10.2 per cent to 5.3 trillion yen compared to the same period last year.
"Operating income increased by 549.7 billion yen as a result of improved vehicle sales and the reduction of variable and fixed costs.
"Factors for the increase include 210 billion yen due to sales volume and mix and 150 billion yen due to cost reduction efforts," it noted.
Toyota's senior managing director Takahiko Ijichi said the company's consolidated vehicle sales for the third quarter reached 2 million 65 thousand units, up 227 thousand vehicles from the same period last year.
Boosted by good third-quarter performance, Toyota has raised its consolidated vehicle sales forecast to 7.18 million units for the fiscal year ending March 31, 2010.
Earlier, the same was projected at 7.03 million units.
The car maker now expects to rake in consolidated revenues to the tune of 18.5 trillion yen and net income of 80 billion yen, for the fiscal year ending March 31, 2010.
"Due to factors such as increased sales volume and mix, as well as overall cost reduction efforts, we have revised our forecast for FY 2010," Ijichi said.