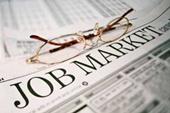 The US employers began year 2010 by announcing 71,482 planned job cuts, the highest job-cut tally in five months, a report by global outplacement firm Challenger, Gray & Christmas has said.
The report, however, said that the increase in layoffs should not be seen as a sign of 'recession relapse'.
The January job-cut total, led primarily by heavy downsizing in retail and telecom sectors, was 59 per cent higher than 45,094 layoffs announced in December 2009, the report released on Wednesday said.
"The increase in January is not necessarily a sign of a recession relapse. It is not uncommon to see a surge in job-cut announcements to begin the year. Companies are making adjustments based on the previous year's results and the outlook for the year ahead," Challenger, Gray & Christmas chief executive officer John Challenger said.
While this is the first increase in monthly job cuts since last July, the January total was 70 per cent lower than the 2,41,749 planned job cuts announced in January 2009, which had marked the peak of downsizing activity in the recession, with job cuts hitting their highest level in seven years.
Last month's job cuts were led by retail-sector employers, who not only eliminated many of the seasonal positions added between October and December, but also many of the fulltime, permanent jobs that existed before the holidays. Retailers announced plans to cut 16,737 jobs last month.