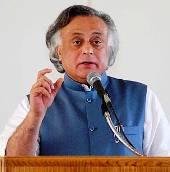 After locking horns with the Intergovernmental Panel on Climate Change on the glacier melting issue, environment minister Jairam Ramesh said on Thursday the research of the Indian Panel on Climate Change would be more 'robust and solid' than the UN body's.
"We should not depend only on reports from the UN body. Its fault was that it didn't do original research and derives assessments from published literature," Ramesh told reporters while referring to the recent goof-up by the IPCC.
He said there was a fine line between climate science and climate evangelism and 'I don't believe in the latter'.
"I think people misused the IPCC report," he said maintaining that the IPCC, with a panel of over 2000 scientists, was a responsible body.
"I respect the IPCC. At the same time India is a large country. . . we can't depend only IPCC. So, we have launched the Indian Network on Comprehensive Climate Change Assessment. It's got 125 research institutions from across the country that will do their own assessment," Ramesh said.
He said that INCAA, launched last October, was not a parallel or rival to IPCC but its researches will be definitely would be more robust and solid than the UN body.
The first climate change assessment from INCAA would be brought out in November this year, he said.
The 'four by four assessment' would look at four sectors -- agriculture, health, water and forests -- and four regions. These would be Himalayan ecosystems, coastal areas, western ghats and the northeast.
On the IPCC claim that the Himalayan glaciers would melt by 2035, Ramesh termed it as 'alarmist.'
"I have always maintained that the health of glaciers were a cause of serious concern and there was a need for carrying out more researches and studies to take corrective measures," he said.
He added that the National Institute of Himalayan glaciology at Dehradun has been set up for this purpose.
The minister also announced the launch of the National Environmental Sciences Fellows Programmes to encourage young scientists to do 'cutting-edge research on critical issues related to the environment in collaboration with leading institutes and scientists.'
Image: Jairam Ramesh