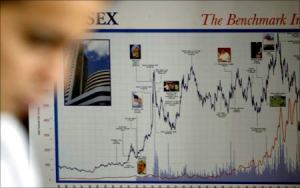 It was another disappointing session for the markets. While Wednesday's rally had evoked the possibility of a sustained pullback, the weak global cues quashed any such hopes and a rise in food inflation exacerbated the damage.
The Sensex almost reversed the previous day's gains to end at 16,224, down 271 points, and the Nifty closed at 4,845, down 86 points.
The broader indices did no better; mid-cap and small-cap indices gave up nearly 2% and the market breath turned extremely weak, with two declining stocks behind every advancing stock.
IT pivotals declined after a report showed the US services industry expanded less than forecast, metal stocks mirrored the fall in metal prices on the London Metal Exchange and auto stocks skid on on fears of a hike in fuel prices.
The US stocks ended lower overnight as Pfizer's disappointing outlook weighed on the health sector and President Obama's pledge to complete banking and healthcare reform revived fears of increased regulation. And Asian stocks dropped due to a decline in the commodity prices.
And food inflation inched up to 17.56 per cent for the week ended January 23 from 17.40 per cent in the previous week, mainly due to the rising prices of potato and pulses. Potato prices jumped by 44.91 per cent over the last year, while pulses became dearer by 44.43 per cent.
Hindalco plunged nearly 6% to Rs 146, Jaiprakash Associates tumbled 4.5% at Rs 131 and Tata Steel dropped 4.2% to Rs 574 on the BSE. Tata Motors, DLF and Reliance Communications were the other major losers.
ONGC, ITC and HDFC Bank were the only gainers among the index stocks. And Gail and BPCL rose on hopes of deregulation in the prices of petroleum products.