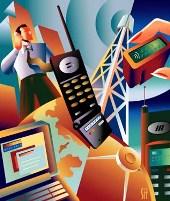 The government has extended the one-time entry fee for Internet Service Providers licence by up to Rs 10 lakh (Rs 1 million) while raising the validity by five years.
"The validity of licence agreement is initially for a period of 20 years unless otherwise terminated," the department of telecommunication said in a circular.
On entry fee, the circular said, "The one-time entry fee of Rs 30 lakh (Rs 3 million) for Category-A Internet Service Licence and Rs 15 lakh (Rs 1.5 million) for Category-B Internet Service Licence is to be paid before signing of the licence agreement."
Going by the guidelines issued in August 2007, the ISP licence was valid for 15 years and the one-time entry fee was Rs 20 lakh (Rs 2 million) and Rs 10 lakh (Rs 1 million) for Category-A and category-B circles, respectively. The new amendments will come into effect immediately.
There are more than 375 ISPs all over India with some operating pan-India and few in selected areas.
This is the second time in the last two months that the DoT has amended the ISP licence guidelines.
In December, the government made it mandatory for the players to take security clearance before buying any equipment or software.