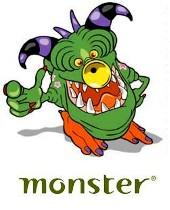 Online career and recruiting firm Monster Worldwide has said it will buy Yahoo's jobsite HotJob for $225 million in cash.
The companies have also entered into a three-year 'commercial traffic agreement' in which Monster would become provider of career content on Yahoo!s home page in the US and Canada.
The transaction is expected to close during the third quarter of 2010.
Monster Worldwide said, "It has entered into a definitive agreement to acquire the assets of Yahoo! HotJobs, a leading online recruitment website, from Yahoo! for $225 million in cash," a statement on Wednesday said.
Internet firm Yahoo! has been cutting cost and closing its under performing businesses like the GeoCities Web-hosting site.
The company also sold its e-mail technology unit Zimbra to VMware for an undisclosed amount. Yahoo! said it 'remains focused on its core businesses and delivering exceptional experiences to users, partners and advertisers.'
"Monster will be able to offer its employers a significantly larger pool of candidates across diverse geographies and industries," the company said. Yahoo! acquired HotJobs in 2002 for $436 million.