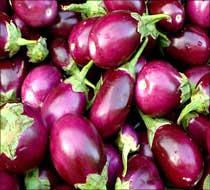 Ten state governments have decided not to wait for the end of the controversy over whether genetically modified brinjal, popularly termed Bt brinjal, should be approved or not.
They have decided not to allow it in their states anyway.
Their representatives joined hands on Wednesday at a conference called in Kerala by the state government and called their united stand the second war of Indian independence.
They were from political parties of different hues but united by the common cause of opposing Bt brinjal, the genetically modified version of the vegetable, the technology for which is owned by US company Monsanto.
The conference was called by the agriculture department and biodiversity board of the state government in Thiruvananthapuram.
The representatives of the 10 states ranging from Mizoram in the far east to Kerala's next door neighbour, Tamil Nadu and Naxal-ravaged Chhattisgarh, besides Bihar and Madhya Pradesh, declared they would not rest till Bt brinjal and all GM food stuff 'Quit India'.
Our motive was to send a message of opposition to Bt brinjal to the Centre, said V S Vijayan, chairperson of the Biodiversity Board of Kerala.
While the meeting was called by the communist-led coalition government in Kerala, there was also the agriculture minister of the Congress-led government of Andhra Pradesh, ministers from the BJP-led governments of Karnataka, Madhya Pradesh, and Rajasthan, the BJP-Akali government of Punjab, the BJD government in Orissa, the JD(U) government in Bihar and were ministers from Gujarat and Chhattisgarh.
Apart from Gujarat and Tamil Nadu, the others have officially banned genetically modified food material.
Said V S Vijayan: "The states made a joint declaration today, resolving against allowing Bt brinjal in their territory. The agricultural ministers of Andhra Pradesh and Punjab recounted the losses incurred by their farmers who opted for Bt cotton and vowed not to allow Bt brinjal in their states.
"Ultimately we are surrendering our freedom by becoming dependent on foreign seeds for our food.
"The states realise this and they called this stand the country's second war of independence," he said.
The participants, however, confined their energies to tackling Bt brinjal and did not get into the genetically modified elements which are already there in the food chain through edible oil, soya products and various processed food.
Pushpa Bhargava, member of the Union government's Genetic Engineering Approval Committee, said the country did not have the technology to detect the Bt DNA.
"All we can do is to either insist on labelling of all imported food or like Mahatma Gandhi, not buy any imported food," said Vijayan.
For now, despite our stand on Bt brinjal, we are merely a dust bin for all that is sent from abroad, whether it is dairy products from cattle fed on GM fodder or soya milk, or other products, the experts said.