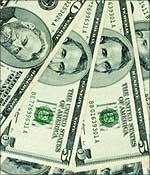 The government does not have any plan to hike the cap of foreign investments in bonds as the response from investors (so far) did not warrant such a move, a top finance ministry official said.
"The (existing) limit is not being used up for a long time...there is no proposal to increase the foreign institutional investment debt limit," the official, on condition of anonymity, told reporters in Mumbai.
Presently, the government allows foreign investments of up to $15billion in corporate bonds and upto $5 billion in government bonds.
The official said that FIIs utilisation of corporate bond ceiling was much lower as compared to that of government bonds.
According to the present norms, the investment limit will automatically go up if the current limit gets used up to 80 per cent.
To give a boost to the corporate bond market, the Government hiked the FII investment limit in Rupee-denominated corporate bonds from $6 billion to $ 15billion early last year.
The official said that capital flows at the current level did not pose any concerns to policy-makers, echoing a similar view from Reserve Bank deputy governor, K C Chakrabarty, who had on an earlier occasion, said current capital flows were under manageable levels.
"Up till now capital flows are managed by the market. We feel that there is no problem to manage this kind of capital flows," Chakrabarty said last week.