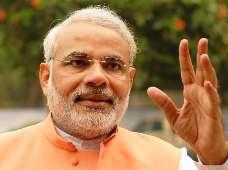 Guarat chief minister Narendra Modi, popularly called as 'CEO of Gujarat', has attempted an image makeover for being 'pro-poor', by organising Garib Kalyan Melas across the state even as the Opposition dubbed it as a facade and tamasha.
Modi, who chose to bring over his image change mid-way of his five-year term, has already held at least 25 of the 50 Garib Kalyan Melas in the state where he claims have given benefits of various government schemes to poor people directly without involvement of any middlemen.
However, Opposition Congress has strongly criticised this shift from 'pro-rich' to 'pro-poor'.
"The attempt by orgainsing such Garib Kalyan Melas is surely of image makeover from being called pro-rich to pro-poor, but the chief minister will not succeed in it. He is trying to follow Rahul Gandhi but people know BJP's truth," Congress spokesperson Manish Doshi said.
"The poor people have traditionally voted for Congress while the vote bank of BJP is upper class.
"The Gujarat chief minister is trying to woo poor people by organising such tamasha," senior Congress leader Arjun Modhvadia said.
The Oppositon in the state had mounted a concerted attack on Modi during the 2007 state election campaign and also in the run up to 2008 Lok Sabha elections calling him a 'CEO chief minister working for benefits of industrialists and ignoring the poor'.
Congress leaders have also submitted an memorandum to Governor Dr Kamala saying that the Modi government was cheating poor people by organising such melas as they would have received the benefits anyway.
Modhavia said that Modi should have done this by sitting in his office 'but he is going to district and villages for publicity.'
However, Modi in his speech at most of these melas has said, "Rajiv Gandhi had said that if Centre releases Re 1 rupee the beneficiary gets only 10 paisa. I am organising such melas to give direct benefit to poor people by handing over one rupee in such functions by going to their doors".
Garib Kalyan Melas are being organised by the Gujarat government in remote villages and towns in which poor people who are eligible to get the benefits of government schemes are directly given financial assistance by Modi.
State BJP president R C Faldu said, "Congress has stooped low by making such statements on Garib Kalyan Melas through which Gujarat chief minister is doing his duty to serve poor people of the state".
He also denied that Modi is going for a image makeover by such melas.
"From the start, Gujarat government and Modiji has never discriminated between different sections of the society. This is no image change programme," Faldu clarified.
Image: Narendra Modi