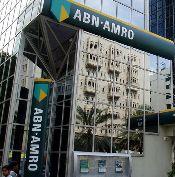 ABN Amro has initiated the process of re-branding its retail branches as RBS after receiving the Reserve Bank of India's (RBI's) approval for the same.
According to a senior RBS executive, RBI had held back the approval because the branch licence was in the name of ABN Amro NV. Since the Dutch lender had not been able to change its name globally, RBI had not permitted ABN Amro to re-brand in India.
"Now, the Dutch regulator has permitted the parent to change its name. So, as far as RBI is concerned, this is just an application for a name change and will not involve the transfer of licences to a new entity," the executive said. ABN Amro has already re-branded its corporate and investment banking divisions.
The lender is trying to find a buyer for its retail and commercial banking operations and is in talks with HSBC after Standard Chartered pulled out.
According to an RBS executive, the re-branding process will continue regardless of the progress of the deal.
Accordingly, ABN Amro has written to all its customers saying that the naming of the parent organisation from ABN Amro Bank to the Royal Bank of Scotland (RBS) is now imminent.
The letter adds, "Your existing ATM cards, debit cards, credit cards and cheque books will remain valid and RBS will fully support all transactional needs until further notice when they may be replaced by RBS branded cards and cheque books."