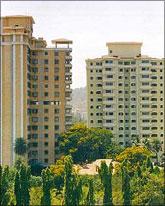 The government on Wednesday said the country needs investment to the tune of Rs 361,000 crore (Rs 3,610 billion) to meet the shortage of nearly 25 million housing units.
"There was approximately housing shortage of 24.7 million dwelling units at the beginning of the 11th Five year plan. . . The investment requirements would be to the tune of Rs 361,000 crore for overcoming this massive housing shortage," Minister of State for Urban Development Seagate Roy said at the CII real estate concave in New Delhi.
Of the total housing requirement, about 99 per cent is constituted by the economically weaker section and the low income groups, he added.
"The massive urbanisation in the past few decades has led to severe housing shortage for the urban poor... providing affordable housing is one of the most formidable challenges that our country faces today," Roy said.
He said availability of land at cheap rates is the greatest challenge in providing affordable housing in the country.
Measures like increasing density by hiking the floor-area ratio and encouraging public-private partnership should be considered in fulfilling the housing need of the country.
"The government has sought to create an enabling and supportive environment for expanding credit flow to the housing sector and increasing home ownership in the country," Roy said.
Several policies and initiatives like fiscal incentives have been taken to facilitate private sector participation in supply of affordable housing.
"We are looking forward to reciprocate the initiative from the private sector to supply these housing units," he added.
Stressing that Jawaharlal Nehru National Urban Renewal Mission (JNNURM) is a reform driven programme Roy said, "We would like states to implement Model Rent Act and remove Urban Land Ceiling Act. Not all the states have reformed- like Delhi has not implemented the Model Rent Act and West Bengal has not repealed the Urban Land Ceiling Act."
Roy also said the Model Real Estate (Regulation of Development) Bill is in the final stages of preparation. The Act aims to set up a real estate regulatory authority in each state to control and promote housing activities.
When asked about expectations from the forthcoming budget, Roy said, "Housing is an important sector of the economy. Interest on housing loans should be brought down. I hope the finance minister will take care of the sector."