The ruling Congress Party on Wednesday hinted at a possible hike in prices of petroleum products but said it should be done when it is unavoidable and in a manner that has "minimum" impact on the common man.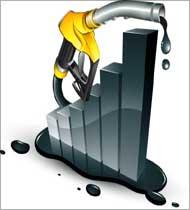 "As long as there is no domestic or international compulsion, prices should not be increased. Even if compulsion is there, it should be increased minimum in actual terms," party spokesperson Abshishek Singhvi told reporters in New Delhi.
The comments came a day before the Union Cabinet meets to discuss a proposal for freeing petrol prices from government control and for a moderate increase in diesel, cooking gas and kerosene rates.
The Congress core group, which includes UPA chairperson Sonia Gandhi, will meet to vet the proposal before it goes to the Cabinet.
Asked to comment on the Kirit Parikh panel report on fuel pricing reforms, which suggested a steep hike for cooking gas and kerosene rates, Singhvi said, "A report has recommendatory value." He said that before a formal announcement, the report has to be first accepted by the government and a decision has to be taken.
"There are diverse inputs. Parikkh's report is one input. All inputs are taken into consideration before a decision is taken," Singvi said adding that there is no point in speculating before a decision is formally announced.
Asked about the government's move to increase petro prices vis-a-vis UPA's commitment against price rise, Singhvi said, "A lot of what you are talking is speculation."